Palos Hills 24-Hour Laundromat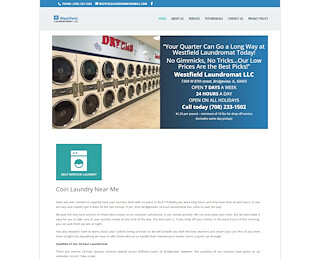 Count On the Top Palos Hills 24-Hour Laundromat
One of the most time-consuming household chores is doing laundry. While you can leave the machine running automatically, the process of loading and unloading, and drying consumes your time significantly. Besides, the washer and dryer consume a considerable amount of water and electricity, having an impact on household bills.
An extraordinary alternative is to go to one of the top of the line 24 hour laundry near Palos Hills. Not only will you be able to do your laundry at your convenience, but it is a faster and more economical option than doing it at home. In the Palos Hills area, you won't find a better alternative than Westfield Laundromat LLC. It is essential that you know our prices and services, so you know why we are the best Palos Hills 24-Hour Laundromat.
Why Choose Westfield Laundromat LLC?
Top-Notch Services
We provide the finest 24-hour laundry service in Palos Hills because our goal is to make your laundry a pleasant experience. We have the best facilities and added value for your comfort and convenience. We have the best place with air conditioning, high-efficiency dryers, bilingual machines, excellent parking, snacks, supplies, and a comfortable and clean environment. We also provide the best laundry services. Compare our services and choose the one that fits your needs:
We have the top 24-hour coin laundry, with 34 washers and 34 dryers. With them, you can complete your laundry in just one shot. Besides, you will have conventional, family, and big-load washing machines, which will allow you to wash even the largest items like a pro. We offer an unbeatable one-stop solution for all your laundry issues. That's why our machines give change, and you'll have the best brands of supplies in the store for you to choose your favorites.
If you want to enjoy an exceptional washing, drying, and folding service effortless, this is your ideal option. For only $1.25 (minimum 10 Lb Load), your clothes will be taken care of by our expert laundry staff. This is an ideal service for those who don't have time or simply want to have clean and fresh clothes without worries. We use the best supplies in the market, to guarantee you a world-class wash. Our price includes same-day pickup.
Unbeatable Prices
Another factor in Westfield Laundromat LLC's success as the "premier laundromat near me" is our prices. We offer the most economical washing rates in the region, saving you not only time but money. You'll pay less for the service, and you'll also see a significant reduction in your utility bills. Also, the more clothes you wash, the more you get for your money. Just compare the price per pound of each of our premium laundry machines:
2 loads 15 lb: $2.50. $0.16/lb.
2 loads 22 lb: $3.00. $0.13/lb.
3 loads 30 lb: $3.75. $0.125/lb.
4 loads 40 lb: $5.00. $0.125/lb.
8 loads 80 lb: $9.75. $0.121/lb.
Count on the Best
If you were looking for the prime Palos Hills 24 hour coin-op Laundromat or the best laundry drop-off service, you are in the right place. Enjoy the best service in the region the day and time you want, even on holidays. We provide the leading service and unbeatable prices for your convenience. Contact Westfield Laundromat LLC or stop in to do your laundry 24/7 all year round.